Intrepid Issues $30,000 in Grants Through Ideal Community Fund
On May 10, Intrepid issued $30,000 in grants to three local nonprofit organizations through its employee-led Ideal Community Fund.
Still Serving Veterans
A $10,000 grant was issued to Still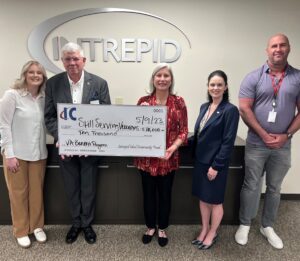 Serving Veterans (SSV) in support of its VA Benefits Program, an ongoing major program area for the organization that is funded annually by grantors and is supplemented with income earned from fundraising events.
Still Serving Veterans' mission is to serve and honor Veterans and their families by empowering them to build meaningful lives through connections to fulfilling careers, benefits, and services; and to proactively strengthen veteran communities through leadership and collaboration. With regard to benefit support, SSV helps veterans to secure their VA benefits such as disability, aid and assistance, burial, and/or education.
Discover more about Still Serving Veterans HERE.
Service Dogs Alabama
A $10,000 grant was also issued to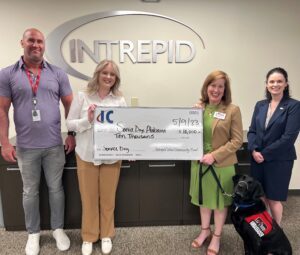 Service Dogs Alabama to assist with the training and placement of a service dog for a military veteran. Due to certain health conditions, this particular veteran was in need of a specifically trained service dog to assist with balance and mobility issues, as well as PTSD intervention to help manage anxiety and pain. Having access to a service dog will allow this veteran to be in public and do the things he once enjoyed, such as attending his grandchildren's little league games.
Service Dogs Alabama (SDA) provides medical and psychiatric service dogs to children, adults, and veterans with disabilities. Founded in 2010, SDA has a state-of-the-art training complex in Hope Hull, Ala.; an additional kennel facility to complete training in Morgan County, Ala.; a prison-based dog training initiative; and school dog program.  SDA is certified by Assistance Dogs International, and over 130 dogs have been placed with qualified individuals and facilities throughout the state of Alabama.
Discover more about Service Dogs Alabama HERE.
Kids to Love
The final grant issued went to Kids to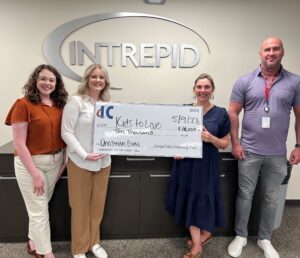 Love in the amount of $10,000. These funds will aid in the organization's Christmas for the Kids Program, ultimately sponsoring 40 children and their individual wish lists. This support provides children with an opportunity to express their needs or desires during the holiday season and to have those fulfilled.
The overarching mission of Kids to Love is to meet the immediate needs of children living in foster care. Since incorporation in 2004, Kids to Love has been able to reach more than 290,000 foster children, rescuing them and meeting their needs.
Discover more about Kids to Love HERE.