Cintel/Intrepid JV, Solytics, Named Awardee on $1B TETRAS II Contract
Solytics, a joint venture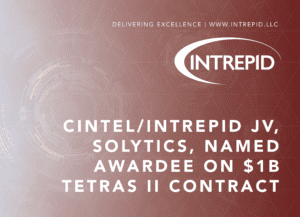 between Intrepid and Cintel, has been named an awardee of the $1B Test & Evaluation Technologies for Ranges, Armaments & Spectrum (TETRAS) II IDIQ for the Air Force's 96th Test Wing at Eglin Air Force Base (AFB), Fla. 
TETRAS II will support the continuous mission of the test community for the development and integration of highly specialized technologies required to meet Department of Defense (DoD) test user systems under test and facilities needs for Developmental Test (DT) and Operational Test (OT) capabilities.
The primary objective of TETRAS II is to provide the 96th Range Group and other DoD customers with the capability to meet the need to urgently develop and modify Test and Evaluation (T&E) systems and facilities and to support mandatory Radio Frequency (RF) spectrum transition plans as the test community employs technologies to ensure the performance of 5th generation weapons and cyber systems and begins the process of validating and transitioning to 6th generation technology.
"The TETRAS II award is the first of many in our strategic partnership with Intrepid," said Will Irby, Cintel President. "The combined capabilities of our team are a force multiplier for the Air Force and the entire DoD. This was a team effort and team win for Solytics, and we are excited about the path ahead in the Eglin market and beyond. I am so very proud of the Cintel and Intrepid teams and excited about our future."
"As a small business awardee on TETRAS II, we are well positioned to engage the Eglin market, grow our contract portfolio, and increase our support to the Air Force," said Mark Vaporis, Intrepid President. "I appreciate all the hard work contributed by the Cintel and Intrepid teams – both in the formation of the JV and this proposal – allowing us to reach this first milestone win.  I'm excited to see the realization of that hard work through direct support to the 96th Test Wing and beyond as we deliver exceptional systems services."
###
About Solytics
Solytics is a Joint Venture between Cintel, Inc. and Intrepid LLC aligned under the Small Business Administration's All Small Mentor-Protégé Program delivering customer-focused solutions and services through an integrated system. Solytics leverages the strengths of our combined team to deliver unparalleled end-to-end solutions in technical and programmatic services as a small business.
Solytics brings 25 years of combined experience delivering technologies and services to the Federal Government serving multiple agencies in the DoD, including the Missile Defense Agency, U.S. Army, U.S. Air Force, and U.S. Marine Corps, as well as Government Civilian Agencies and Commercial Clients.
Discover more about Solytics here.